The Life of Joan Jett
"So when you tell me a girl can't play rock & roll, you're not saying a girl can't master the guitar, you're saying girls aren't allowed to play rock & roll because rock is a sexual type of music and being sexual is not allowed for girls." – Joan Jett
Who is Joan Jett?
Joan Jett is a singer-songwriter and producer. She began her career in her teenage years with her pop-punk band The Runaways. She has become one of the most distinguished women in rock.
Joan Jett was born on September 22, 1958, Joan Marie Larkin. She was born in Pennsylvania. She has been passionate about music since she was a child and she received her first guitar at the age of 14. When her family moved to Southern California, she became inspired by the glam rock genre. She is now one of the greatest female rockstars of all time.
Where is Joan Jett from?
Jett was born in Wynnewood which is a suburb of Philadelphia. Her parents are James and Dorothy Larkin. She is the oldest of 3 siblings. She came from an ordinary family. Her father was an insurance salesman and her mother was a secretary. The family moved to California to provide Joan the opportunity to make music.
What is Joan Jett known for?
Joan Jett rose to fame with her band, The Runaways. The Runaways consisted of Joan Jett, Sandy West, Lita Ford, Jackie Fox, and Cherie Currie. They were an all-girls rock band in a time when that wasn't acceptable. They pushed the boundaries of what was considered socially acceptable, especially for women. They proved that women can be rockstars.
The Runaways gained fame for their hit 'Cherry Bomb'. They pushed the boundary more by wearing lingerie while performing on stage and singing about sex and rebellion. After their first album, the band struggled. Many people left including Jackie Fox and lead vocalist, Cherie Currie. Eventually, the band broke up in 1979, only a few short years are they started. This led Joan Jett to start her solo career, refusing to give up on her dream.
The Runaways had caused much controversy. Joan was facing obstacles when it came to her solo career. She was unable to get signed. No one would give her a chance. Because of this, she founded Blackheart Records. Joan Jett was the first female to own and directly manage an indie record label. With Blackheart Records, she released her solo album as Joan Jett & The Blackhearts. Joan Jett & The Blackhearts reached success with hits like 'I Love Rock & Roll' and 'Crimson & Clover.' This was the highest point of her career.
Joan continued to make music throughout the years. In 1983, she released 'Album' but it wasn't as successful as 'Bad Reputation.' In 1984, she released 'Glorious Results of a Misspent Youth'. That album didn't fare well either. Joan Jett continued to make music until 2013 with her latest album being 'Unvarnished.' Her music has been featured in several popular films such as Kick-Ass, Shrek, and Charlie's Angels.
Besides music, she also holds acting and producing credits. She has acted in films like 'Light of Day' with Michael J. Fox, Repo! The Genetic Opera, and an appearance on Law & Order: Criminal Intent. Jett served as an executive producer on the 2010 film, 'The Runaways'. 'The Runaways' is a movie adaptation of former lead singer Cherie Currie's book, 'Neon Angel'. It stars Kristen Stewart from 'Twilight' as Joan Jett and Dakota Fanning as Cherie Currie.
Joan Jett is a jack of all trades. There is nothing she can't do. She has proven this time and time again. She has left a mark on the music industry and was inducted into the Rock & Roll Hall of Fame in 2015.
"Girls have got balls. They're just a little higher up, that's all." – Joan Jett
What did Joan Jett contribute to history?
Joan Jett has set many records in her life. She is known as someone who is ambitious and exudes fierce strength. Her largest contribution to history has been her fight to be heard. Her fight for women. She influenced rock by forming one of the most outlandish female rock bands. Joan Jett pushed the envelope of what it meant to be a female in rock. She proved women can rock just as hard as men.
"Joan Jett doesn't play rock & roll. She is rock & roll."

-Tim Stegall
Joan Jett is one of the biggest rockstars of all time. Despite all the obstacles she faced, she kept going and cemented her place in history. She is a symbol of female empowerment with a big F you to sexism. She has influenced some of the biggest names in music including Miley Cyrus and Green Day. Miley Cyrus commented that Joan Jett made the rules just to break the rules. Iconic.
Is there a documentary about Joan Jett?
A documentary chronicling her life was released in 2018. The documentary is appropriately titled 'Bad Reputation', the name of her first solo album and her well-known reputation as a bad girl. The documentary highlights the rise of The Runaways and the hard fall, Joan's resilience in the face of rejection, and creating her career after years of criticism.
"I'm really happy doing what I'm doing. I'm not looking to do anything else. I love what I do. I love music. I love playing. I love touring." – Joan Jett
Does Joan Jett participate in charity work?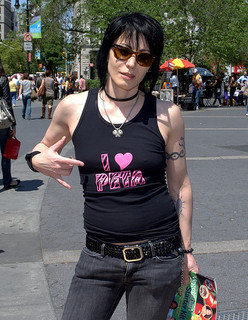 Joan Jett is a vegetarian and has been a vegetarian for years. She is an activist for animals. She works with Farm Sanctuary. Farm Sanctuary describes itself as an animal protection organization. They have a goal of ending farm animal abuse. Joan Jett is also a spokesperson for PETA. PETA stands for People for the Ethical Treatment of Animals. It is an animal rights organization that is well known across the world. Joan has also participated in USO/Armed Forces Entertainment Tours to support our troops overseas.
"I do not knowingly kill any living thing – including insects or rodents – and I thank my food for sustaining me." – Joan Jett
Where is Joan Jett now?
Today, Joan Jett is still recording music and touring. She has upcoming tour dates in 2022. She still works closely on Blackheart Records. In 2018, there was a documentary released about her life called 'Bad Reputation.
What are some of Joan Jett's greatest hits?
Crimson and Clover
Real Wild Child
Bad Reputation
Do you wanna touch me?
I love Rock & Roll
I Hate Myself For Loving You
Joan Jett's decades-long career has had its ups and downs. She was consistently bullied and ridiculed. She didn't care what anyone had to say though. She stayed true to herself. She proved them wrong.
While her career didn't come without a battle, nothing worth fighting for ever does. She started her career out as a teenager and she is still rocking out today at 63 years old. From the moment she stepped foot on stage with The Runaways, no one could have known the impact she would have on the industry.
Jett is the embodiment of girl power, fierce and defiant. She has cemented her place in rock and roll history as a leader and an icon. She continues to break boundaries and fight for women. Because of her defiance, she has ignited a conversation about women in rock and opened doors. Jett is to be admired for her resistance to conform.
References:
A&E Networks Television. (2020, August 7). Joan Jett. Biography.com. Retrieved December 20, 2021, from https://www.biography.com/musician/joan-jett
Corday, K. (2020, August 31). The tragic real-life story of Joan Jett. Grunge.com. Retrieved December 20, 2021, from https://www.grunge.com/228631/the-tragic-real-life-story-of-joan-jett/
Joan Jett. BMG. (2019, May 22). Retrieved December 21, 2021, from https://www.bmg.com/de/artist/joan-jett
10 Joan Jett-inspired artists who are breaking boundaries just like her. Alternative Press Magazine. (2021, March 26). Retrieved December 21, 2021, from https://www.altpress.com/features/artists-inspired-by-joan-jett/
Grow, K. (2018, September 27). Joan Jett talks rock-icon status, why #MeToo hasn't reached the music industry. Rolling Stone. Retrieved December 21, 2021, from https://www.rollingstone.com/music/music-features/joan-jett-bad-reputation-doc-metoo-runaways-kim-fowley-730074/
Wikimedia Foundation. (2021, December 19). Joan Jett. Wikipedia. Retrieved December 21, 2021, from https://en.wikipedia.org/wiki/Joan_Jett#Early_life
Joan Jett. (n.d.). AZQuotes.com. Retrieved December 21, 2021, from AZQuotes.com Web site: https://www.azquotes.com/author/7430-Joan_Jett
Danielle Hensley has a passion for writing. As a child, she would write stories all the time imagining her favorite celebrities as the main character. Danielle enjoys writing about the lives of famous people and how they achieved success. She hopes to inspire people through her writing. Danielle is a mother, student, and entrepreneur. In her free time, she enjoys coloring, art, and binging her favorite Netflix shows.